10-minute walk from the city centre, recreation area for people in Kobe -Minato no Mori Park-
Work out
Heard from someone
Hot spot for athletes
With the family
With the kids
This article is based on the coverage conducted in June 2021, when a state of emergency was not declared in Hyogo Prefecture. Although some pictures were taken without wearing a mask, the coverage was conducted taking counter measures against Covid-19 (to wear a mask, etc.) recommended at that time.
Place of recreation & relaxation for the citizens × Earthquake disaster reconstruction
Blue sunny sky and the grass comfortable to sit on.
There is a running track paved with special rubber around the grass, which makes me want to run around.

This is neither athletic field nor playground in suburbs.
This is "Minato no Mori Park", which is easily accessible from the centre of "Sannomiya", just 10-minute walk south of JR Sannomiya station.
The sea is nearby, so when you get tired, you can relax gazing at the sea.
You may not get lost because if you just keep walking under the "Port Liner" elevated railway, you can find the park.

Having a picnic is easy here, just bring a picnic blanket and get some takeaway food in Sannomiya.
It would also be nice to come along with your friends, kids or pets to play with balls, frisbee, etc.
Of course, this is a perfect place for a morning jog, too.

The park is crowded at both weekdays and weekends especially when the climate is mild in spring and autumn.
Minato no Mori Park is a place of recreation & relaxation for people in Kobe.

This park is also known as a memorial park for earthquake disaster reconstruction.
The park was established in memory of disaster reconstruction following the earthquake that hit the area in 1995, which you may have heard of. There are facilities related to the earthquake disaster here and there in the park.

For example, what you see in the picture above is just a small hill but in fact, an emergency kit is stored inside in case of earthquake disaster. The kit includes blankets, biscuits, drinking water, baby goods, etc.
A clock remaining at the former site of Japan Freight Railway's Kobeko station shows the time the earthquake struck.
Street sports are here.
If you look around, you will see an area called "New Sports Hiroba", where young people in Kobe enjoy playing street sports.

The "New Sports Hiroba" square offers the place for playing various sports like, BMX, Bike polo, Inline slalom, Aggressive inline skating, Inline hockey, Skateboarding, Street basketball, Street dance, Blind football, and juggling.

This square was designed reflecting the opinions of the players. It's been over 10 years since it opened but it still attracts players in the city.

Watching these sports closely is one of the good things about "Minato no Mori Park".
BMX is one of the sports you can try here, and I interviewed Mr. Hayato KOBAYASHI, a pro BMX rider.

Mr. Kobayashi took part in designing this place as a volunteer, and also, he is volunteering doing management work. He uses the park himself, too.
I got to know Mr. Kobayashi at "Kobe Institute of Computing, Graduate School of Information Technology", he is one grade above me.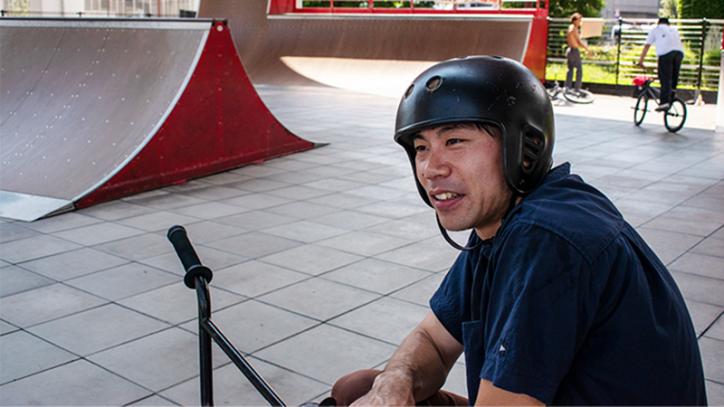 He has over 20 years of BMX experience since he started it when he was a high school student. He used to coach kids, and now he is working as a BMX performer at a theme park.

I was surprised to know that the worst injury in his life is that "his urethra was torn", and it took him two years to fully recover, which is just like he had a big road accident.
But his passion for BMX and other cycle sports did not fade. "I'd like to make cycle sports popular, it is from an educational point of view, too."

Listening to his story, I grew interest in his ability as he's been doing it for over 20 years. So, I asked him to perform BMX tricks at the square.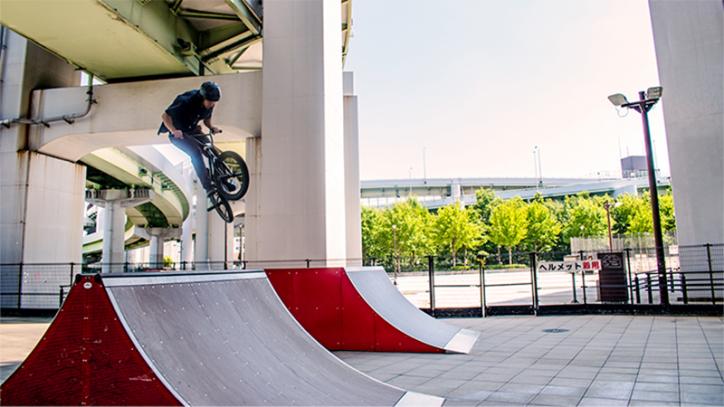 He went down the steep slope and then jumped high maintaining the speed.
He jumped and turned simultaneously, and then did wheelies.

Using different lane, he showed me more complicated techniques.

He jumped, turned around, and then rotated the handle. After that, he rotated the whole bike as he jumped.

You can see this closely at the square, it's more exciting.

There were some riders practicing but Mr. Kobayashi's technic was special.

"I want to do that trick, too.", an onlooker said.

Seeing Mr. Kobayashi's performance during this coverage made me want to try BMX more than ever.
But it's been about 10 years since I cycled.
Of course, I haven't tried BMX before.

So, I made up my mind and then asked him to teach me something even a beginner can do.

I was too scared to practice on the court so I started with getting used to the BMX bike on a flat floor outside the court.
As you may already know, BMX bikes are made to pedal standing up, therefor, the saddle is positioned very low and angled which makes it so uncomfortable to sit on.

It does not come with brakes. As I am riding this kind of bicycle for the first time, it was hard to control the speed let alone control the handle.

So, when I was practicing wheelie, I ended up falling and my back was slammed against the ground, because I was pedalling too fast.
It's been five days since then but my back still hurts.
I strongly recommend that beginners wear supporters.

As I didn't want to leave not achieving anything, I practiced for 90 minutes, and then managed to rotate the handle 180 degrees while I'm on the bike.

BMX has a "three times rule", which is, you cannot say that you made it unless you make it three times in a row.
So, I tried until I make it three times in a row to say "I made it".
Please keep it a secret that it was suspicious success.

Having Mr. Kobayashi's lesson for beginners, I could tell that he was giving me accurate advises.

If you are interested in street sports such as BMX, why don't you visit "Minato no Mori Park" and talk to someone who catches your eyes?

The park attracts not only those who wants to have some rest but also street sports lovers.
This is probably because you can see experienced players to learn how they do it in this park, where it is easily accessible from the central Kobe.
You won't have this kind of opportunity in any other park.

Mr. Kobayashi says he cannot come to this park very often because has another job, however, he tries to come once a week.
You may be able to see Mr. Kobayashi cycling if you come here.

■Minato no Mori Park
Location: 2 Onohamacho, Chuo-Ku, Kobe-Shi, Hyogo-Ken
To get there:
Approx. 10-minute walk south of "Sannomiya" station
If you are going by car, please park at paid parking nearby.
The sports and disciplines
of the World Masters
Games 2021 Kansai
held in the neighbourhood.
Introducing the poster
I'm studying at "Kobe Institute of Computing, Graduate School of Information Technology" as well as working as a freelance web designer.
Every morning after I wake up, I do a short meditation and a HIIT Burpees workout.
I was a long-distance runner at athletics club in high school.