Are there any connections between raccoon dogs and sports!? -Sure-fire method for winning I found in Shiga-
Tried
With the family
With the kids
History
Culture
This article is based on the coverage conducted in Augast 2021. In principle, the coverage was conducted taking counter measures against Covid-19 (to wear a mask, etc.) recommended at that time.
"Shigaraki ware" made in Shiga Prefecture is famous for raccoon dog figure as good luck charm but did you know that the figure actually has a connection with sports?

People gave "Tanuki (Japanese for raccoon dog)" a different meaning according to the sound; "Ta" for Tanuki means others and "Nuki", overtake, thus, overtake others and win = you'll be lucky in games. So,it is popular among athletes, apparently.
With a golf competition ahead of me, I was desperate so I decided to go to Shigaraki.

At Shigaraki station, a huge statue of Tanuki as tall as 5 m welcomed me. In these times, it was wearing a mask and a sash to show support to Mr. Hideki UDA from this area who will be participating in Tokyo Paralympics.

To my surprise, 6 days after this coverage, Mr. Hideki UDA won a Paralympic silver medal in triathlon! Congratulations. He proved Tanuki brings good luck in games.
Pottery workshop at "Shigaraki Tougeimura"
I headed to "Shigaraki Tougeimura – Okuda Chuzaemon Gama" to start with. The kiln opened in 1888 and has a history of over 100 years.
In Shigaraki Tougeimura, I'm joining a pottery workshop. There are many places providing pottery trial lesson in Japan, but you can make a Tanuki figure here.

Mr. Fujii at Shigaraki Tougeimura instructed me on how to make it.
You flatten softball sized clay to about 1 cm thick, and then press it tightly against the mold to make it Tanuki-shaped.

Now I try following Mr. Fujii's instruction.
It reminded me of art lesson at Primary school when I was kneading the clay. The texture made me feel nostalgic.

After pressing against the mold, put some water on the joint to make it a bit slimy.

Put the molds together, and then press tightly.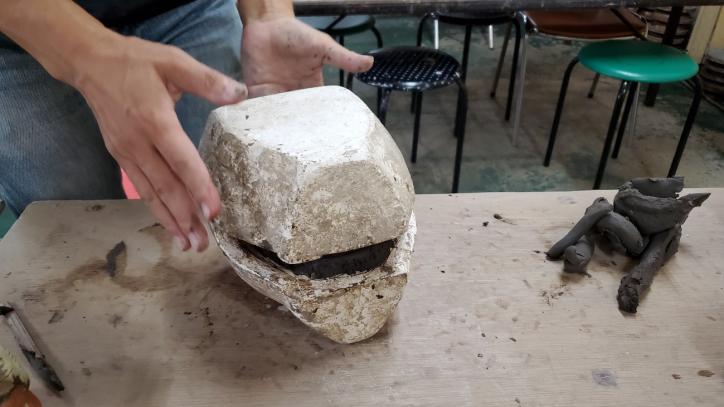 Unmold on potter's wheel and remove excess clay. Tanuki base is done.
Now, I start customising this Tanuki.
As I drew eyes and whiskers with a bamboo skewer, it started to have an expression on its face, and I was attached to it. Then I made him an accessory I liked using leftover clay. I decided to make a Golf Tanuki this time. I'm making this Tanuki praying to win golf tournament after all.

It is important to keep the accessory as close to the body as possible, because a protruding bit may come off while baking it. I wanted to make him hold a golf club but as Mr. Fujii mentioned the club is so thin that it may come off, I attached a club head to the tip of the branch which Tanuki was holding in his right hand so that it looks like a golf club.

Does it look like holding a golf club?

I also wrote "勝" (it means "victory") on it praying for victory. It took me about 40 minutes to complete. I think I did a pretty good job. I think I can see myself winning the tournament.
After this, a craftsman will cover it with a glaze, bake it, and then ship to your home in about one and a half months. I look forward to seeing how he would look like when he comes home.

Break at "Noborigama Cafe"
After the pottery workshop, I visited "Noborigama Café" which is located on the same site.
To my surprise, the café is made from a renovated real "climbling kiln (Noborigama)", which was active until 1990. It is 22 m long and there are 11 cubicles lined up like stairs.

I placed an order at another building and entered the assigned cubicle. As I entered the kiln made of Shigaraki clay and mud walls, the noise outside was blocked out and the atmosphere changed at once.
Its lumpy walls are smooth and look a bit shiny. The colour is the same as Tanuki's and it is called scarlet.

The room surrounded by scarlet mud walls really is a healing space. it gives me a peace of mind.

In this nice space, I had a piece of charcoal cake roll, pudding and coffee served in a Tanuki mug. Good luck coffee.
The cake roll flavoured with charcoal and Asamiya tea (Note: Tea made in the district.) has subtle sweetness and goes well with coffee and pudding.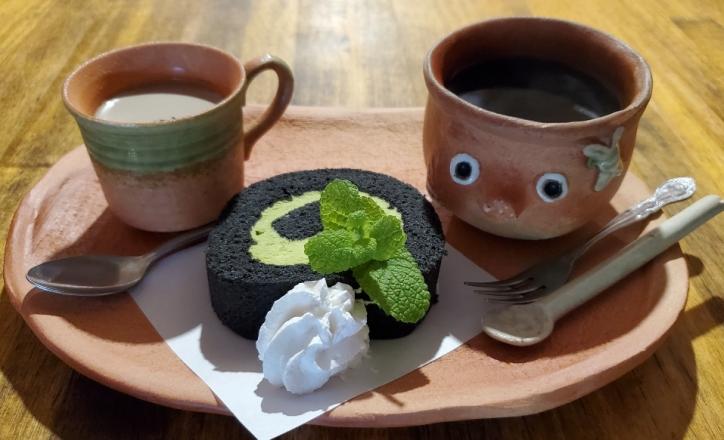 Shigaraki Tougeimura has a souvenir shop where you can find Tanuki figures in various sizes and designs besides Shigaraki ware plates. (Tanuki mug, too.) There are Tanuki holding a football, basketball, etc., so it will be a nice gift for someone playing the sport, wishing their victory.
I bought some souvenirs before leaving Shigaraki Tougeimura, then headed to "The Shigaraki Ceramic Cultural Park".

"The Shigaraki Ceramic Cultural Park" is a park located on a lush green hill overlooking Shigaraki, there are ceramic art museum, industrial exhibition hall with gallery & shop, etc. In addition, there is a large lawn area in the park, which made me want to practice golf, but it is not allowed to do so. Absolutely not.

I suggest you take a deep breath admiring the view of green mountains and peaceful pottery village.

There are many golf courses around Shigaraki but there are also good places like museum here and there as well.
You can rent a bicycle at station so it would be nice to cycle around the village feeling highland wind, make a Tanuki figure praying for victory, and relax at Noborigama cafe and The Shigaraki Ceramic Cultural Park when you get tired. You should visit Shigaraki.

Several weeks after visiting Shigaraki, I participated in a golf tournament, enjoyed it very much but as for the effect of good luck with competition Tanuki, it seems there are individual differences.

■The Shigaraki Ceramic Cultural Park
Location: 2188-7, Chokushi, Shigaraki-cho, Koka City, Shiga-Prefecture
TEL: 0748-83-0909
To get there: Approx. 20-minute walk from Shigaraki Kohgen Raiway "Shigaraki" station
The sports and disciplines
of the World Masters
Games 2021 Kansai
held in the neighbourhood.
Introducing the poster
I am an office worker and I do volunteer work at sports events here and there, because I want to support people who put all their energy into sports, and also, I want to have fun with those who enjoy sports. Of course, I'll be joining WMG as a volunteer. If you see me, talk to me!