Slope too steep, but loved for more than 1,200 years
Work out
Tried
Hot spot for athletes
Gourmet
Nature
Transportation
This article is based on the coverage conducted in Augast 2021. In principle, the coverage was conducted taking counter measures against Covid-19 (to wear a mask, etc.) recommended at that time.
"Kuragari-toge", a rather tiny mountain pass, which you only need a pair of trainers and a small backpack to climb, is loved by every generation for more than 1,200 years.
Kuragari-toge became famous for its steepness.

Some people come to this pass for training taking advantage of its steepness, and also there are people who drive a long distance to see the pass which is said to be the steepest national highway in Japan.
To the top, it is only about 2.4 km (1.5 miles), which is a little shorter than the distance between 2 railway stations. It's such a short pass with a small hill but once you climb it, it will give you a great sense of accomplishment.

Two stations away from Kintetsu Railway "Higashi-Hanazono" station (near Hanazono Rugby Stadium) towards "Nara", there is "Hiraoka" station. The entrance to the pass is 5-minute walk from the station. This is the toughest part of "Kuragarigoe Nara Kaido" highway.


Unlike most mountain passes, this pass which is said to be the steepest national highway in Japan goes almost straight to the top.

And, the name of the pass is unique.
"Kuragari-toge" means a "pass in the dark", and it has an interesting background how it was named like this.

I was looking at the area around it on Google Map to find somewhere to go hiking for a change, when the pass caught my eyes.
"Kuragari-toge - a pass in the dark? It's such an unusual name!"
It is as if to say "You shouldn't come feeling half-hearted, otherwise you will have a hard time."
There must be a story beyond my imagination why this pass was named like this. I'll go and take pictures for now.

This is how I decided to go to Kuragari-toge with curiosity.

Although I had been confident and enthusiastic about it, I started to become cautious because I'm basically timid and also, I had no experience of climbing. So, I packed some nutritious snacks and first aid kit to go to only 2.4 km long pass in the city. I even left home before dawn because people start climbing mountains early in the morning, apparently.

I arrived at the entrance to the pass. It is so steep even at the entrance!
The circular pattern is for anti-slip?

Though it is short, it seems I am going to have quite a tough time.

As I started climbing, I came across locals who walked from the neighbouring hiking route in Osaka ("Osaka fumin no mori" hiking route).

It seemed they regularly take a walk in the morning, they talked to me cheerfully as they passed by me.
"I haven't seen you around here before. Where are you going?"
"I'm going to Kuragari-toge because I haven't been there."
"I see, good luck!"
I had been too enthusiastic but I felt relieved and thought it would be alright to step into Kuragari-toge.

It was soon after I started climbing up, I could overlook the entire city of Higashi Osaka when I turned around, and it motivated me that I climbed this high.

Once I start walking, I only think about putting my feet forward.
My mind and body feel refreshed like Zen or mindfulness.
Sometimes, thoughts about my everyday life would come up but I tried to stop thinking about them.
The sound of the mountain stream along the pass, pleasant breeze, singing birds and sound of seasonal insects bring me peace of mind.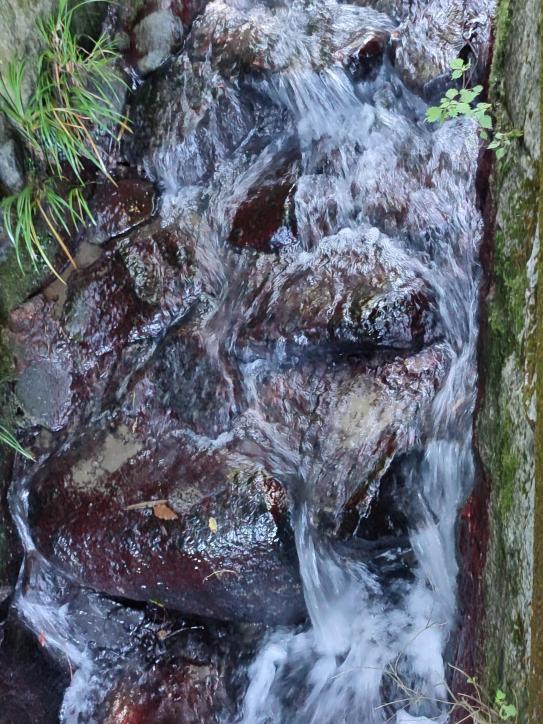 I was about to regret coming to a long steep slope like this, when I could see the famous spot.
The road I came was straight but the one ahead of me is…

The ground is warped.
I wonder there was no gravity in olden times.
Numerous brake marks. It could burn tyres.
The slope is so steep.
While I was there, cars with a number plate of Toyama, Nagano and Fuji drove past me. They came a long way to see this hidden world. As a local, I am really honored.
I want to call it "Higashi Osaka's belly button" like Uluru (Earth's belly button) in Australia.

I stopped on the side to give way to vehicles and glanced at the drivers to see if they were alright, and found all of them leaning forward, alert, but having a nice simile.

So, this is what they wanted.
Considering that they decided to come here driving their own car, they seem to be very good at driving. Some of them came back soon after making a u-turn.
How did they make it on this narrow pass!?

Although it is paved with concrete nowadays, it is still tough walking even in trainers.
I would like to know the reason why the pioneers chose to go through this tough short cut instead of taking a detour.
And, they were going up and down in straw sandals, right!?

When something looks impossible, people become more determined, perhaps? Like, "I can do it!"
When people say "Don't do it, seriously.", they go "I'll manage it, definitely!". Indomitable fortitude.


There are interesting stories of where the name came from; this area was dim even during daytime in the old days so people started calling it "Kuragari-toge (pass in the dark)", or, it used to be called "Kura gaeri-toge (saddle turning pass)" meaning that it was so steep that the saddle attached to the horse's back would turn over, etc.

It is fun just because the slope so steep.
Feeling ecstatic, I made my way.

The slope is not that steep now, the highest point is nearly there.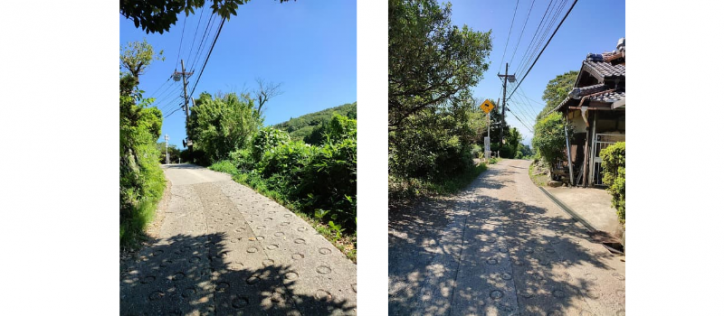 I got to Kuragari-toge.
"You came all the way here." People living in the area smiled at me, which made me think that I was right to climb up the pass to get here. I was proud of myself.

Why don't you try it?

■Trivia & tips for "Kuragari-toge"■
1: To see Hanazono Rugby Stadium
About 10 m down from a spring called "Kobo no mizu", there is a road to "Osaka fumin no mori".
Walk along the road for about 5 minutes, then you will find a resting place called "Narukawa enchi Kyukeijo".
Go to the direction of Kintetsu Railway "Hiraoka" station. If you stand on "Hiraoka yama" observatory, you can see a red building in front of you, this is "Hanazono Rugby Stadium".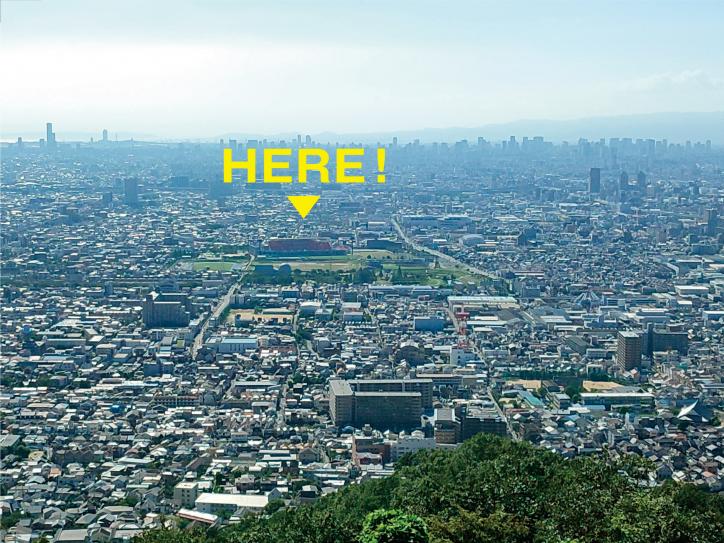 2: Kuragari-toge Eggs
If you go to Nara Pref. side, you will hear chickens making noise cheerfully.
Egg over rice served with roasted seaweed and seaweed salt
If you go down Kuragari-toge towards Nara Pref. side, there is a roadside shop called "Yutopia" with an honesty box selling fertilized eggs. The amount is small, so you are lucky if you find them. The egg is light and plain so I would recommend "Tamago kake gohan (uncooked egg on rice, served with soy sauce)".
Introducing my Route
The sports and disciplines
of the World Masters
Games 2021 Kansai
held in the neighbourhood.
Introducing the poster
The sports have another stunning world which I never knew until I worked as a volunteer for the Rugby World Cup 2019, which I applied for casually.
When I was searching for next volunteer work, an advert for Sports Locally reporter caught my attention.
Our life needs the essential amino acids called 'Sports'.